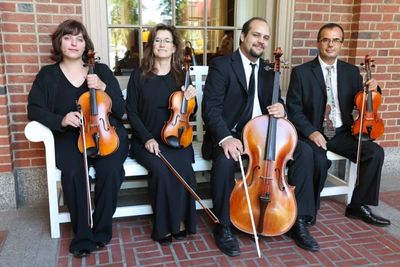 Romantic and Modern Music
Beethoven: "Adagio Cantabile" (from the "Pathétique" Sonata)
Barber: "Adagio for Strings"
Bartók: "Romanian Folk Dances"
Bizet: Entr'acte to Act III of

Carmen

Bizet: Entr'acte to Act IV of

Carmen

Bizet: "Flower Song" from

Carmen

Bizet: "Habañera" from

Carmen

Brahms: Hungarian Dances Nos. 1, 2, 3, 4, 5, 6, 7, 10, 11, and 21
Copland: "Hoe Down" from

Rodeo

Debussy: "Clair de Lune"
Debussy: "Golliwog's Cake-Walk"
Debussy: "The Girl with the Flaxen Hair"
Dvorák: "Largo" from the

New World Symphony

Fauré: "Pavane"
Gershwin: "Prelude No. 2"
Grieg: "Morning Mood" from

Peer Gynt Suite

Herbert: "Gypsy Life"
Kéler: "Son of the Puzta," Op. 134, No. 2
Kreisler: "Allegretto in the style of Boccherini"
Kreisler: "Tambourin Chinois"
Kreisler: "The Old Refrain"
Lehár: "Vilia" from

The Merry Widow

Massenet: "Meditation" from

Thaïs

Naughtin: "Simple Gifts" Fugue
Puccini: "Che Gelida Manina" (from

La Bohéme

)
Rachmaninoff: Rhapsody on a Theme of Paganini: 18th Variation
Rachmaninoff: "Vocalise"
Ravel: "Menuet" from

Le Tombeau de Couperin

Ravel: "Pavane pour une Infante Defunte"
Sarasate: "Romanza Andaluza"
Satie: 3 Gymnopédies
Shostakovich: "Romance"
J. Strauss, Jr.: "Czardas" from

Die Fledermaus

Traditional: "Golden Earrings"
Traditional: "Moldovanke"
Ragtime
Scott Joplin: "Bethena Concert Waltz"
Joplin: "The Cascades"
Joplin: "Elite Syncopations"
Joplin: "Stoptime Rag"
Joplin/Hayden: "Sunflower Slow Drag"
Joseph Lamb: "The Alaskan Rag"
Lamb: "Ragtime Nightingale"
Lamb: "Top Liner Rag"
Donald Ashwander: "Friday Night Rag"
Gershwin/Donaldson: "Rialto Ripples"
Paul Pratt: "Hot-House Rag"
Robert Hampton: "Cataract Rag"
James Scott: "Calliope Rag"
Max Morath: "The Golden Hours"
Matthew Naughtin: "Birthday Rag"
Waltzes
Anderson: "Belle of the Ball"
Chopin: Waltz Suite
Dvořák: "Adagio" from Symphony No. 8
Heuberger: "Midnight Bells" Waltz
Ivanovici: "Waves of the Danube"
Kreisler: Caprice Viennois
Kreisler: "Liebesfreud"
Kreisler: "Schön Rosmarin"
Lehár: Waltz Suite from

The Merry Widow

Puccini: "Musetta's Waltz" (from

La Bohème

)
Stolz: "Two Hearts in Three-Quarter Time"
J. Strauss, Jr.: "The Blue Danube"
J. Strauss, Jr.: "Wiener Blut"
J. Strauss, Jr.: Waltz Suite from

Die Fledermaus

J. Strauss, Jr.: "Tales From The Vienna Woods"
R. Strauss: Waltzes from

Der Rosenkavalier
Latin Music
Zequinha de Abreu: "Tico Tico No Fuba"
Isaac Albeníz: "Tango in D"
Jacob do Bandolim: "Noites Cariocas"
Jabob Gade: "Jalousie" (tango)
Carlos Gardel: "Por Una Cabeza" (tango)
Alberto Ginastera: "Danzas Argentinas"
Luis Gianneo: "Lamento Quichua"
Mexican folk song: "La Bamba"
Heitor Villa-Lobos: "Bachianas Brasileiras"
Ángel Villoldo: "El Choclo" (tango)
Other Songs
"Galway Rambler Medley"
"Loony Tunes Fugue"
Harold Arlen/Ted Koehler: "Stormy Weather"